Executive Office
D. Brenton Simons
President and CEO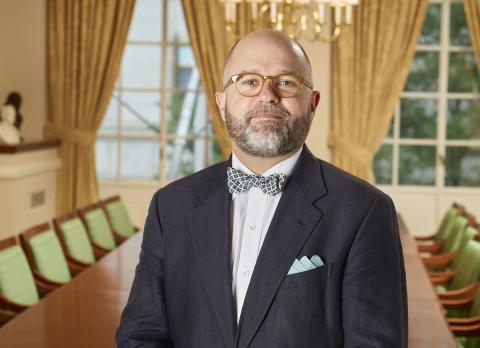 D. Brenton Simons has changed the face of nonprofit-based genealogy in America and beyond by bringing the best scholarship to millions of users for more than fifteen years as President and CEO of American Ancestors/New England Historic Genealogical Society. He has overseen an historic expansion of the organization ― the founding genealogical institution in America ― which now serves more than 355,000 members in 139 countries, and millions of online users, with 1.6 billion records at AmericanAncestors.org.
Mr. Simons is the Vice Chair of the Plymouth 400th Anniversary State Commission, by appointment of His Excellency, The Hon. Charles D. Baker, Governor of Massachusetts. He is a recipient of the Award of Merit from the American Association for State and Local History and the Spirit of 1812 Award from the National Society United States Daughters of 1812.
An award-winning author, he has been featured on CNN, FOX, BBC, PBS-TV, The New York Times, Boston Business Journal, and elsewhere. His most recent book, Boston Beheld: Antique Town and Country Views, was hailed by the late historian Douglass Shand-Tucci as "the book Jane Austen might have written had she run into Charles Dickens after his return from his Boston visit of 1842," and an earlier work, Witches, Rakes, and Rogues, has been a popular book for many years.
Mr. Simons is the Secretary of the Board of The New England Quarterly, the premier journal of New England's cultural, literary, political, and social history, and is a Board member of Plymouth 400, a member of the American Antiquarian Society, the Society of the Cincinnati, the Society of Colonial Wars (in Massachusetts and Florida), a Fellow of the Massachusetts Historical Society, and a Proprietor of The Boston Athenæum.